INTRODUCING 
LABELTRACE
ONE
ONE solution for ALL your labelling needs
Labeltrace was designed in partnership with the NHS and with an installed user base of over 4,000 GP Practices across the UK, Labeltrace is well established as the labelling system for healthcare clinicians for specimen tube and form labelling.
LabeltraceONE builds on this rich legacy and incorporates all your clinical labeling requirements into one system. With a simple click within the Patient Record you can easily print off a label for your clinical needs. Check out our features and label templates below.
Compatibility
Compatible and approved for use with all principal GP Clinical systems including:
Labeltrace also supports and augments laboratory requesting systems such as:
Benefits
Saves considerable time and improves efficiency, with individual or complete sets of labels printed.

Eliminates manual transcription and associated possibilities for error, thus ensuring that samples sent

to the labs are labelled with correct demographic information.

A typical user can save up to 6 hours a week and the system can pay for itself in less than 7 weeks.

Professionally and accurately create labels for any requirement.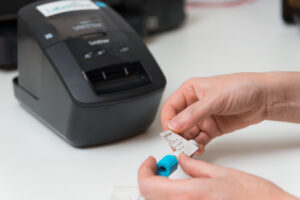 Pathology Specimen Sample & Form labelling
With the click of a button, LabeltraceONE generates labels for test request forms and/or specimen tubes. The label includes Patient NHS Number (plus barcode option), Surname, Forename, Date of Birth as well as any other information requested by the labs. The low-cost labels designed specifically for specimen tubes are printed in 'real-time' on a compact desktop label printer. When request forms and specimen samples are received at the labs, they are easier to process and can even be scanned, ensuring the requests are carried into the lab's system with the correct patient details.
Appointment Card Printing
Printing Appointment Cards direct from the Appointment Module of the GP Clinical System saves considerable time and guarantees the accuracy. Handwriting appointment cards at the front desk are time-consuming and prone to mistakes. Misinterpreted handwritten information on slips can also result in patients attending at the wrong time. The Appointment Card system prints clear, professional cards printed at the time the appointment is created.
System Maintenance
At Labeltrace, not only do we provide a top quality product, for a small annual investment, we will provide you with on-line and telephone support to ensure that you are getting the best out of your system.  This also includes free upgrades ensuring that you always have the latest features available to you.  
DOWNLOAD FULL BROCHURE HERE
NEW CUSTOMERS 30 DAY FREE TRIAL
FREE UPGRADE AVAILABLE TO EXISTING USERS